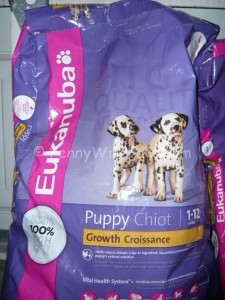 The human had lunch with Sukis human and a few other humans, most whom are owned by cats, in a completely different part of town yesterday.
Of course, after lunch, we had her pay a visit to the local Petco, mainly to check on the marked down Friskies boxes. Not only did she score two more 12 packs of Friskies, she also found a 16.5 bag of Eukanuba Puppy food on mardown for $3!!!  We had $3/1 coupons from little booklets that were on the marked down Eukanuba Senior Food bags we purchased previously. So we got it FREE!!!
Here's the detailed UPC for these bags if you want to go looking: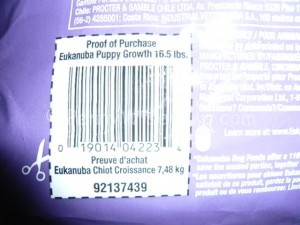 These were on the markdown shelf in our regular Petco as well, but last time we had them scanned they were still ringing up at full price.
Of course we had the human check our nearby Petco for these bags and much to her surprise they rang up even lower: $2!!! She found three of them and used 1/1 coupons on those that she had in her coupon pile, in order not to waste the few $3 coupons we have left and to avoid issues with the register.
So another three bags for one dollar each!! Major Score!!!
Definitely be on the lookout for these marked down Eukanuba bags, both the Puppy and the Senior varieties.
Here's a pic of how the coupons looks like! Maybe you'll find them in your store!! The 2/1 calendar coupons expired on 9/30 unfortunately!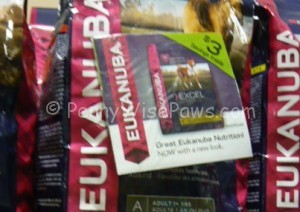 But even without a coupon $2 for a 16.5 lbs bag of dog food is an awesome deal!!!
Happy Shopping!!