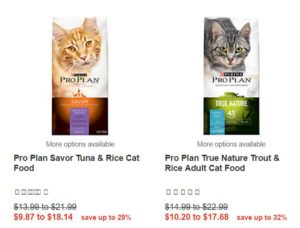 Petco currently has 3.5 lbs Pro Plan dry cat food bags for around $10. If you have the 2017 Petco calendar, you will find a store coupon for $5 off any Purina Pro Plan cat food, any bag, any size. That coupon combines with the new printable $5/1 manufacturer coupon we posted earlier today.

If you have both of of these coupons, you can score a 3.5 lb bag of Pro Plan for free or close to free, depending on which variety you purchase.
In case you select a variety that is less than $10 we suggest to add a small filler item, such as a can of wet food just in case. Most registers mark the coupons down by themselves (hand MQ over first, then store Q in any case), but some won't, so it will help to have a filler item, to avoid any beeps.
Happy shopping furriends.