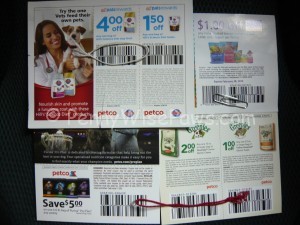 In case you are headed to Petco this week to hunt for your free Pro Plan cat or dog food or any other goodies you may want, you should watch out for these coupons in store
1/1 Halo
5/1 Pro Plan dog food
4/1 Science Diet dry food
1/1 Science Diet treats
2/1 Greenies dental chews
1/1 Greenies feline treats
The Greenies make a nice stack with the printable Greenie store coupons and the Pro Plan coupon will make another bag free when stacked the the 10/1 store coupon!
If you can find the 5/1 Pro Plan Manufacturer coupon in the picture and can find stock on Saturday, you will have no problems getting to $25 and using your 5/25 coupon!!
Let us know what you find!