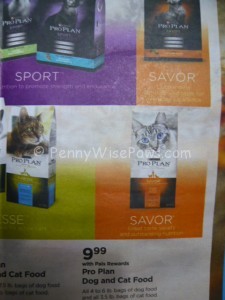 Starting 11/3 through 11/23 Petco will have ProPlan dog and cat food 4-6 lb bags on sale for 9.99, wich is a great price!!
Unfortunately our BOGO store coupon expired on 11/1 otherwise that would have made a real stellar deal, but we still have
3/1 Purina Pro Plan Dog Food, Any Bag – 08-18-13 SS exp 11/18
and some of us may have 5/1 peelies or coupons from the ProPlan rep.
You can score this food for 6.99 using the insert coupons or even 4.99 a bag if you have the peelies.
Watch out for "free treats wyb this bag" peelies on some of the bags, which may make a good stack for our upcoming 5/25 event!