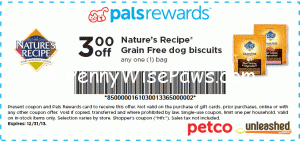 YAY!! As of today we have a new Petco Store coupon 3/1 Nature's Recipe Grain dog biscuits through 12/31
The human spotted the biscuits on sale for 6.99-7.99 last time she went to the store, so that means 3.99 after Q, which is a great price for these.
Some of them were even on markdown for 3.99, but our store was all out, so do watch out for these.
Some of you may have a 2/1 manufacturer coupon from the NR rep! Lucky you are if you do!
In any case this may help you with your dog scenarios!
We won't update the scenarios, but we'll add this coupon to the Petco printable roundup!