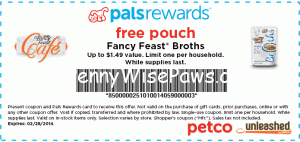 YAY, we have a new freebie printable coupon for Petco. Maybe the outlook for this weekend is not quite as dim as we thought, when we were trying to come up with scenarios.
FREE pouch of Fancy Feast Broths cat food up to 1.49 value through 2/28/2014 (NLA)
We have not seen this product in our store yet!! Hope you can find it in yours!!
We'll update the Petco printable coupon list and add this coupon!!