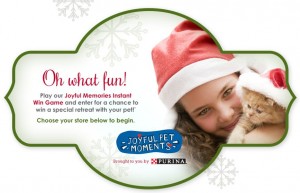 Today, December 21st, is your last chance to try your luck at the Purina pet memory game !
You will need a Frys/Kroger store card. Once you win, you can load your prize directly onto your store card!
The first time you play, you will automatically be entered into their holiday sweepstakes as well!
Leave us a comment on Facebook if you win!! Our human is usually not really good at these games 😉