FREE Beneful Healthy Smile Treat for Facebook users!
By Emily and Linus 0 comments (comments closed)
This post may contain affiliate links, please refer to our disclosure policy.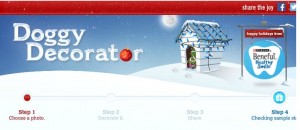 Head over here and upload a picture of your dog, start decorating, share and submit for a free sample of Beneful Healthy Smiles!
Categories: Dog Deals, Flyer Coupon, Treat Deals
Sorry, no comments or trackbacks are allowed on this post.