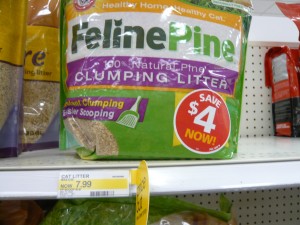 Here are some suggestions to use the 10/40 Target store coupon in today's ad, to score some cat supplies.
Buy 2 Feline Pine Clumping litter at 7.99 each = $15.98
Buy 8 Meow Mix tubs at 51 cents each = $4.08
Buy 40 cans Sheba at 50 cents each = $20
TOTAL 40.06 plus tax
Use 10/40 Target store coupon found in today's ad
Use 2x Feline Pine litter peelies found on the cat litter in store (this picture was taken this morning and all bags had peelies on them in our store)
Use 4x B1G1 Meow Mix tubs printables
Use 4x B5G5 Sheba Premium Canned Cat Food – 03-09-14 RP – valid up to $3.25
Total after coupons: $10.02 plus tax
If you cannot find the feline pine peelies, the A&H clump and seal is 7.99 as well, with 3/1 peelies on the box.
We also have a 3/1 Arm & Hammer Clump & Seal Cat Litter, Any 19 lb. Or Larger – 02-09-14 SS insert and a printable 3/1
Your OOP would be a little higher, but you'd still get a good deal on litter and wet food.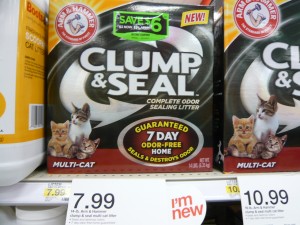 Some of us have peelies for a FREE can of Purina One wet food, those are a good option to use to help you get to $40, but remember you only can use 4 per transaction.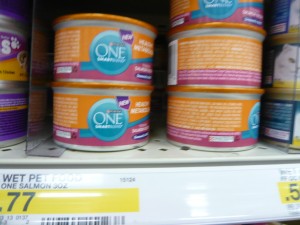 If you have any non-expired 2/3 Iams printables left, these will actually give you a little overage towards your other items. But they are not longer available to print.
Also some Tidy cat varieties were on markdown for 7.64, which is not a huge discount, but every little bit helps. Unfortunately right now we don't have a TQ to stack, but there's a 1/1 Purina Tidy Cats Brand Cat Litter, Any Size/Variety (Excluding Tidy Cats Lightweight 24/7 Performance) – 01-26-14 RP and some of us have 2/1 and even 5/1 peelies.
Meow Mix dry food is 4.29 and we have a 1/1 print here
Friskies dry food 3.99 use 1/2 Purina Friskies Dry Cat Food, Any Bag – 02-09-14 RP or 1/1 from writing to Purina
Have you found any great cat deals, that we overlooked? Let us know through the comments or message us on facebook!!