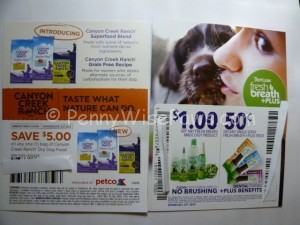 When shopping at Petco this weekend watch out for more coupon postcards at the register or grooming area.
These are usually cards with info on grooming services that have coupons on the back.
In addition to the Blue Coupon mentioned a couple of days ago, the human also found a cards with a 5/1  Canyon Creek Ranch Dog food coupon that stacks nicely with our Petco Store Coupon 5/1 Canyon Creek Ranch dog or cat food through 9/30 plus the CCR dog food is priced at 18.99 B1G1 FREE, so you could score 2 bags for 3.99 after coupon stack!
She also spotted a card with two Fresh Breath brand coupons: 1/1 Fresh Breath made easy product as awell as a 0.50/1 any single serve Fresh Breath treat
We are not very familiar with that brand, but will keep an eye out for a deal with this coupon!