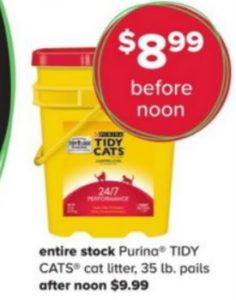 Black Friday is only 9 days away furriends! As every year our human plans to sleep in, until we gently nudge her to get up and got to Petsmart and Petco.
We already posted about some of the Petco deals a few days back and now we finally managed to get a peek at the Petsmart Black Friday Ad. As in past years they will have a deal on the Tidy Cats litter tubs again, which is usually the lowest price of the year. Those tubs will be $8.99 before noon and $9.99 after noon. There are currently no insert coupons for the regular tubs, all inserts we know off are for the lightweight litter and that variety may be more expensive. We'll see once the human is in the store.
Luckily we have a bunch of peelie coupons that can be used on the regular products, you may want to double check your peelie stash as well.
Here are some other noteworthy deals:
BOGO select cat food brands

Bogo select dog food brands

We have coupons out for many of these items, plus there are a bunch of coupons that currently can be found in stores.
So we are pretty sure that the human can score a bunch of good deals!!
Happy shopping!