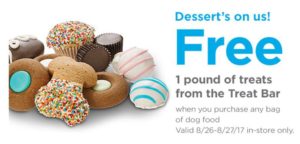 Did you know today is National Dog Day?
Neither did we, but we received an email from Petco letting us know about it.
Even better, the email had two in store coupons (you can print them or pull them up on your phone), with the best of the coupons being for a FREE pound of dog treats (with purchase of a bag of dog food) from their treat bar. The other coupon is for 50% off select meal enhancers.
Both show on the same link.
Happy Shopping and Happy National Dog Day to our dog buddies out there!