So we sent the human to her least favourite store, AGAIN and she finally found a Walmart that carries this variety of dog chow!
We have a $3/1 Purina Dog Chow Light &; Healthy, 4 lb 07/28/2013 RP Insert (exp 10/26/2013) coupon, so that makes it 1.32 after Q
This variety ONLY!! The other dog chow varieties are the same price and we have
$2/1 Purina Puppy Chow, Dog Chow, Active Senior 7+, Healthy Morsels or Little Bites, 4 lb 07/28/2013 RP Insert (exp 10/26/2013) ,
so 2.32 after Q!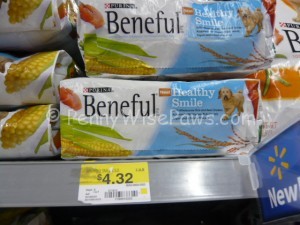 We also have a $1.50/1 Purina Beneful Healthy Smile Dog Food, adult, dry 08/04/2013 SS Insert (exp 09/04/2013) coupon
that makes this variety of Beneful 2.82 after Qs.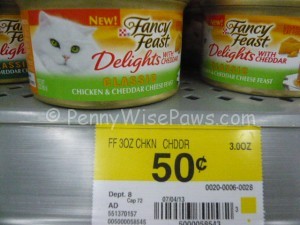 and we have $1/6 Purina Fancy Feast Delights w/Cheddar, 3 oz cans 08/04/2013 SS Insert (exp 11/04/2013)
so 6 cans of Fancy Feast will be 2$, so 33 cents/can
These are ok deals in our eyes. If you have overage coupons to spend at Walmart, these would be good items to be picked up.
Unfortunately none of our stores have the items in stock that allow overage, so the human will be trading our overage coupons.
But we will send the human to target next, as we have target coupons to stack 😉 we shall see!