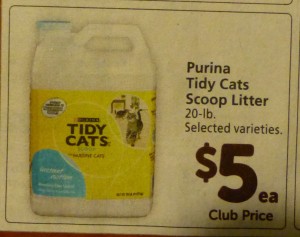 If you are in need of litter, don forget that Safeway has  the 20 lb jugs of cat litter on their $5 Friday deal again!! TODAY ONLY!!
We currently don't have any insert coupons for these, but many of us have 1/1 coupons from writing to Purina or even 2/1 peelies or mailers.
Even if you don't have any coupons, this is a great price!!
Make sure to check your J4U account to see if you got a 5/20 coupon!!
We are going to send the human to get some litter for our buddies at Meowness for sure!