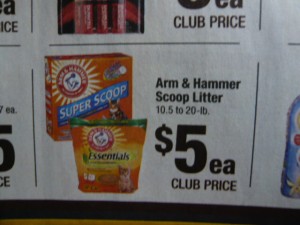 Today, Friday 11/1 Safeway will have the Arm & Hammer Scoop Litter 10.5 to 20lb on the $5 Friday deal again.
Unfortuntaly this can only be had Fridays now, so better head to the store today or get a rain check if they are out!!
We also have currently have a 1.50/1 printable for this litter so you can get it for 3.50 or if you are lucky and still have the 3.50/1 prints left you can score it for as low as 1.50!!
There is also a rebate out there (peelies can be found on the litter packages) for $4 by mail wyb two! Which would make these even cheaper or better than free!!
We are really hoping for a $ off coupon in our J4U account come Friday, so we can use up some of thour 3.50/1 prints to help out the Meowness kitties!
So make sure you check your J4U account before you head to the store!