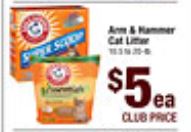 Don't forget, to head to Safeway today to score a pawesome deal on cat litter!
Safeway has Arm & Hammer cat litter on their $5 Friday deals again. Available, ONLY today, Friday 5/2 at that price!
Our store has recently started carrying the NEW Clump and Seal variety and it is usually included for the $5 deal!
On top of that we have several coupons to use on these, which make them only $2 a box:
 3/1 Clump and Seal printable coupon or one of the many 3/1 peelies we have been finding over the last few months!
Please note that the boxes on Sale for $5 at SW are the 14 lb ones, so you cannot use the recent insert coupon from 02-09-14 SS, as that one is for 19 lbs or larger!
Try to snag a box that has a pink "TRY ME FREE" peelie on it. Not only will you score a 3/1 coupon for a future purchase, but you can also send in for a mail in rebate, to get one box entirely free.
You WILL NEED TO SEND in the peelie! Downloading and filling in the form alone is NOT enough, so DO MAKE SURE to send in the TMF peelie!!
Also watch out in store for green 3/1 peelies on those new boxes, so you can use your prints or insert Qs to buy those boxes and save the peelies for the next $5 Friday deal!
Don't forget to check your J4U account to see if you have scored a $5/20 offer to sweeten the deal!