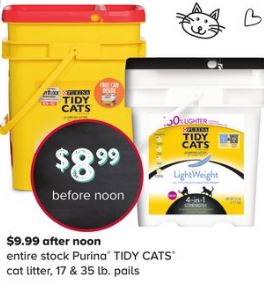 Furriends, this is only two days away!
$8.99 for 35lbs of Tidy Cats at Petsmart when you shop before noon or 9.99 after that!
There's no prints or insert coupons out there for TC right now, the only ones are for the lightweight variety.
Some of us however do have peelies from previous purchases.
Here are some printable coupons to use for other pet products:


Some of us also have higher value peelies, so make sure to check your peelie stash!
Petsmart is also running a Bonus Bucks Promo right now through 2/1/2017.

When you spend $35 on qualifying items, you'll receive a $5 off your next purchase printout coupon on your receipt.
Tidy cats is a participating item in this promo and will count towards the $35!