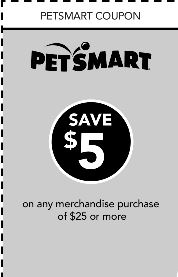 In case you missed it, when we posted a few days ago, we have a $5/25 printable coupon for Petsmart!!!
Those have been few and far inbetween recently, so take advantage of it while you can. It expires on 2/28, so you have only one week left to use it!!
Print limit is 2 per computer!!
Here are some recent deal posts to give you an idea how to make best use of it:
Nature's Recipe Biscuits (still on markdown but coupon is expired)
and while you are at it, grab a couple of these coupon flyers found in store!