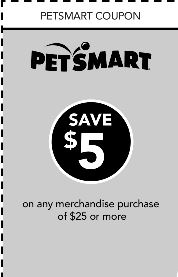 In case you missed it, when we posted a few days ago, we have a $5/25 printable coupon for Petsmart!!!
Those have been few and far inbetween recently, so take advantage of it while you can.
We also posted some suggestions how to use them recently, check out the dog food scenarios here or the cat litter scenario here!
Don't forget to grab one of these booklets at the entrance of the store while you are at it!
Print limit is 2 per computer and they are valid thorugh 2/28!!