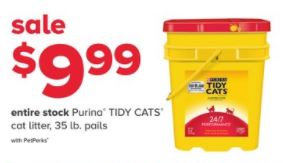 Petsmart sent us an email this morning. They have a few really good deals, today 12/23 only, here's a link to that ad.
They have Bogo cat treats, cheap wet dog food and some other deals. What stands out most to us is the $9.99 for Tidy Cats litter, $7.97 dog beds and
up to 75% off Holiday Dog Treats.
Unfortunately no insert coupons for those right now, but some of us have $2/1 peelies from buying tubs on Black Friday.
We know a few of us out there have 10% off coupons or even $10 off 30 (ours expired last night unfortunately), so double check your emails to see what you might have. Some of our friends have been getting really good $$ off coupons, for downloading the app and playing the Petsmart game. So you may want to try that. You can get up to $40 off $100, but our human is too clumsy and only got us $10 off 30. We'll take anything though, smaller transactions are easier for us to manage anyways.
We also have a few freebie coupons we received in recent emails (Blue Buffalo canned food, Friskies treats and Nutro wet food), that we are planning to pick up during our next visit to Petsmart!
If you don't have any paper coupons to use right now and want in on those deals, you can also place an order online right now and get 10% off in-store pickup orders under $99 or 15% off orders $100+ at PetSmart.com.
 There is also a Buy 1, Get 1 50% off select Cat litter on PetSmart.com
 that you may be able to stack.
Happy Shopping furriends!