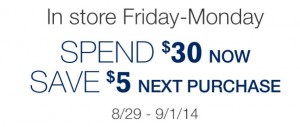 We just received an email with this Petsmart Promo, spend $30 now and save $5 on your next purchase.
You can earn these today 8/28 through Monday 9/1.
We assume this is a register tape that you can used towards anything, but the email does not really specify it!
If you take advantage of this deal, let us know!