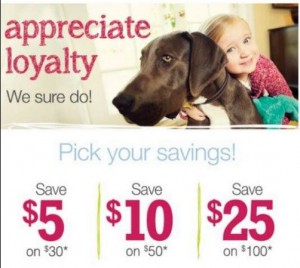 Michelle let us know, she receive this awesome email from Petsmart.
She has a choice of printing it out or showing the barcode on her mobile device to receive 5/30 or 10/50 or 25/100 at Petsmart!
We had our human check, but unfortunately we did not get this.
If you are a registered PetPerks member we do suggest you verify your emails from Petsmart.
Let us know if you got something!!
Thank you Michelle for the message and screenshot!