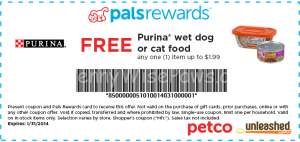 Yay, we have a new freebie at Petco: FREE Purina Wet dog or cat food up to 1.99, that's a great one to have!!
You will also find 20% Purina dog or cat food at the same link, which can make for great deals!
These are NEW printableds, the ones we had before for the same items, expired 12/31.
They will come in handy for the 1/4-5 weekend, when we'll have our next 5/25 Petco deal!
Thank you Stichshopgirl!