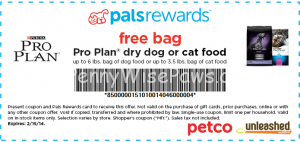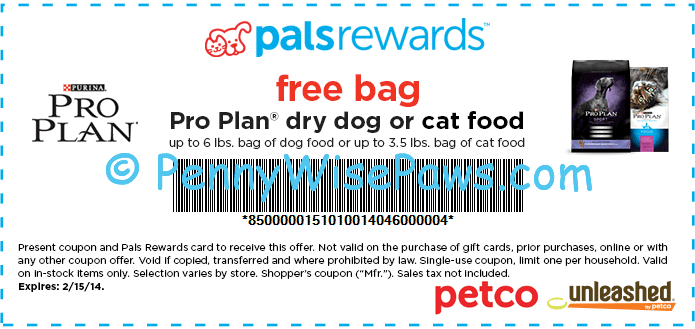 Katie let us know that we have a new printable coupon for a FREE bag of dry dog or cat food from PETCO! You will need a Palsrewards card to get this. But most of you will have one already. If not you can easily sign up for one in the store.
You can get a free 3.5 lbs bag of cat food or a free 6 lbs of dog food with this coupon, it expires on 2/15, so technically it will be available on 2/8 when we have our next 5/25, however we doubt that there will be stock left by then.
We recommend to print right away and head to the store rather sooner than later!
This is a huge deal in itself, plus there's a $10 off coupon as well, which can be used on any bag dog or cat food !
The 10/1 Petco store coupon, stacks nicely with the 3/1 Purina Pro Plan Cat Food, Any 3.5 Lb. Or Larger from  12-08-13 RP, as cat varieties start at 13.99 a bag, so they'll be only 99 cents a bag.
Dog food varieties start at 13.99 as well, but we currently have no insert coupon to stack. Some of you may have some from writing to Purina though.
Thank you Katie aka Peanut and Beamer's human!