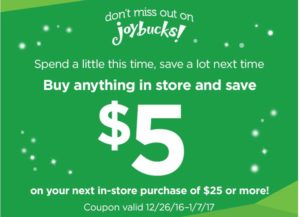 We just received another Joybucks email from Petco. During this promotion you will receive a $5 off 25 coupon for ANY instore purchase through 12/24. You can spend the coupon 12/26/16 through 1/7/17.
Last time they had this promo in November and we expected a coupon to print on the receipt. When that did not happen however, we pointed it out to the cashier, who handed us a paper coupon, which looked pretty similar to the picture above and had a barcode on the back.
In addition to that we received another $5 off $25 coupon per email a couple of days later.
So somehow we ended up with two rewards.
We currently are far away from a Petco, but we'll see if we can have the human head to the store sometime this months, as we still have a Pals Reward to use anyways.
Happy Shopping!