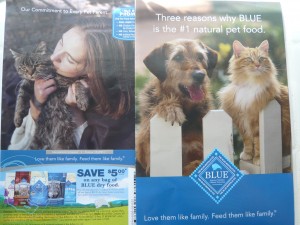 Look what the human found at Petco last night: Flyers with 5/1 ANY Blue dry food coupons in them!
Coupons are good on ANY variety dog or cat food,  expire 7/31 and have no size restriction!
Major score! These are few and far in between and you usually have to write to the company or try to get a hold of a Blue rep at an event!
Plus we have a Petco calendar coupon to stack for an extra $4 off, which makes for a total of $9 off of a really good quality food!
Blue Buffalo Indoor Health cat food starts at only 9.99 at our Petco, so this combo would make it only 99 cents after coupon.
Other cat food varieties, such as the Wilderness ones, are a bit more, dog food starts at 17.99, so only 8.99 after coupon!
Petsmart has the Blue longevity dog and cat food for only 7.17 so you'd be paying 2.17 after coupon. Other varieties start at 11.99 at Petsmart!