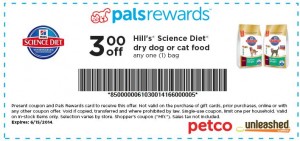 We have a new 3/1 Hill's Science Diet printable Petco store coupon that you can stack with Manufacturer coupons you may have.
Some varieties of cat and dog food are 11.99 at our store, so if you have one of the 5/1 Tearpads or peelies, you can score a bag for a total of $8 off
Try to watch out for the HSD rep in store, they often hand out these coupons. Just ask nicely and they usually will give you one.