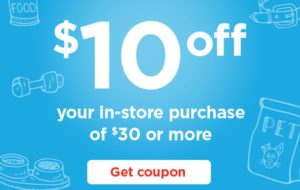 Palsrewards Members, check your emails. We received a $10 off 30 valid through 11/5 by email, last night!
It's a printable in-store coupon, that you can also pull up on your mobile device.
We love these coupons, that's a whopping 33% off!! Yeah!
We will send the human shopping fur shure today!
It seems there's no online equivalent for this offer, so you'd have to send the humans to the store to take advantage of it.
If online shopping is more your human's thing, here's a list of current online offers: Save at Petco.com
Happy Shopping!