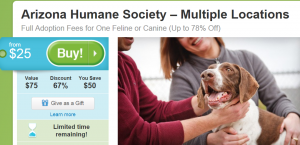 Soooo, the Arizona Humane Society is on groupon and you can get a 67% discount on your adoption fee with the Groupon….sounds like a good deal, right?
Well, we are not so sure. We really think shelters need the adoption fees to cover their cost. Our human has always given a little more than the adoption fee when we were adopted.
These folks in the rescue organisations, including those at the Humane society, work hard to place pets in good homes and really can use the funds to save more pets!
Our human also firmly believes that people who say money cannot buy happiness, have never paid an adoption fee….
We like Groupon, we really do, our humans have purchased numerous Groupons and always enjoyed them. If you are not signed up with them yet,
you can go here to sign up. Consider buying a day of jets-skiing on Lake Pleasant or a Dolly Steamboat ride at Canyon Lake. Those are fun THINGS to do!
But this Groupon offer just rubs us the wrong way. Don't get us wrong, we are ALL FOR promoting to adopt shelter pets and if this helps get the word out, fine! And yes, nobody forced the Humaine Society to do this.
But if you cannot afford to pay the adoption fee in the first place, you probably should reconsider getting a pet, because even with the pet food deals we can help you find
the cost can add up quickly (vet bills etc.).
And if you can afford the adoption fee, why not give it to the AZ Humane Society DIRECTLY in the first place and not through a third party.
Maybe we are missing an important point here, but we will always give our honest opinion on deals!! Regarding this one, we are just not sure if this is a suitable one for Groupon.
Pets are living beings not some thing you buy and getting a new furever friend is one of the "best deals" you can get, no need for a deal site in our eyes.
If you want to know more, here's the link to "the deal", it certainly is better than bying a pet from a backyard breeder or puppy mill, but why not go to the Humane Society directly or to one of the many rescues out there. Please do consider your options thouroughly and only get a pet if you can commit to giving them a forever home!