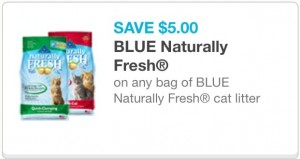 We have a new 5/1 Blue Naturally Fresh litter printable coupon, which should make for a good deal down the road.
Right now the small bags are starting at 8.99 at Petsmart and 9.99 at Petco, so we suggest, unless you need litter urgently, to print and hold for a better deal.
We have seen this product as low as 6.49 on Sale, which would make it only 1.49 after coupon.