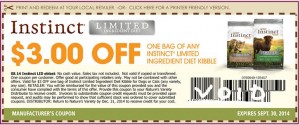 Nature's Variety just released a new 3/1 printable coupon for Instinct limited ingredients
If you are subscribed to their newsletter, you probably received it as well, but here's the direct link to the website.
Instinct Limited Ingredient cat varieties start at 24.99, the dog food starts at 19.99
We also have 4/1 calendar coupons to stack for both NV cat or dog food!
After calendar stack you can get cat food varieties for 17.99 or dog food varieties for 12.99!
You may be able to stack the 10% Petco coupon we posted a few days ago for additional savings!
Our Petsmart has recently started to carry this food as well cat varieties start at 23.99, dog varieties start at 16.99!
If you have a good store, that will accept competitor coupons, you can probably get a better deal at Petsmart, especially for the dog food.