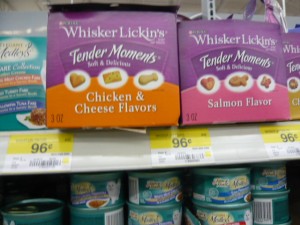 If you have not printed the the awesome 1/1 any Purina coupon, we posted earlier today, you need to head over here and grab it!
It can yield you free or better than free pet food at several stores.
We know some bloggers suggest to use it on cans and yes you could maybe consider a can a "package" plus there is actually a picture of a can on the coupon.
We prefer to err on the side of caution and get items that look more like a "package".
Walmart has Purina Whisker licking cat treats for 96 cents. So 4 cents overage if you buy at WM.
Target has those same Whisker lickings normally for 1.07  but they are on price cut for 95 cents this week.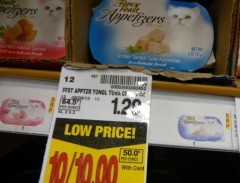 Frys has the Fancy Feast appetizers, which are repackaged trays for $1 each, so those would be free after coupon.
If you want to go get cans, there are several options. We don't want to split hair about what is a "package" especially as the coupon does show cans and says "food, treats or litter", our human just hates arguments at the register, so we'll probably have her use the coupons on treats.
Friskies or FF at Walmart
or
Alpo or FF at Frys
In any case it is an awesome coupon to have!!