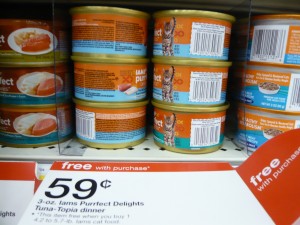 Yay, the 2/3 Iams printable coupons have reset on coupons.com!!!
If you were still hesitant about the Target 10/40 deal, this may be a good reason to head to the store.
Target has them for 59 cents each, so for each set of 3, you get 23 cents in overage towards your other items!
Our human did really well at Target this week! TODAY is the last day for the 10/40 though! Don't have a 10/40? Text PETS1 to 827438 for a mobile version of the coupon!
While you are at it, don't forget to print the Buy any Meow Mix wet cat food, get one free
 (49-51 cents at Target before Qs)
and the 1/1 MEOW MIX dry food  (3.79 at Frys wyb 5)
If you don't want to head to target, some Petsmarts still have Iams on markdown for 47 cents (our human just bought some last night) AND Petsmart will honor the 10/40 as a competitor coupon!
Other options include Walmart 58 cents, Frys 72 cents, Petco 80 cents.