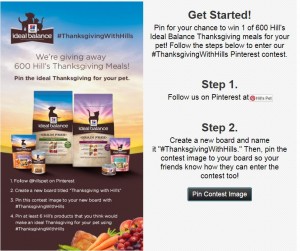 If you are a Pinterest user you have a chance to earn FREE Hill's pet food in their new giveaway.
To enter the FREE Hill's Pet Food Giveaway  you will need to create a Pinterest board titled "#ThanksgivingWithHills" and you'll have to pin at least 6 Hill's Ideal Balance products, including the contest image to your "#ThanksgivingWithHills" board so your friends know how they can enter the contest too!
All entrants will be entered into a random drawing for (600) prize items. Winners will be selected at random by Hill's Pet Nutrition staff and/or promotional agency within 2 days after contest end date.
Quite honestly these are a few too many hoops to jump through for us, but if you are an avid pinterest user and a fan of Hill's products, it may only take you a few clicks!
Good luck!
Thank you H4F!