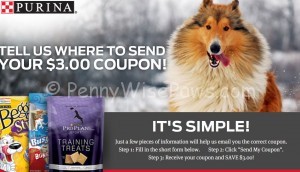 Purina is being generous with us pets this holiday season!!
We were so busy with all the scenarios, we almost forgot to post this, thanks for the reminder Sheryl!!!
Head over here to request your 3/1 Purina treat coupon!! It will arrive in your email shortly afterward and can be printed twice!
This will work really well with the Petsmart F&F 15% off and the BOGO  Beggin Strips Insert coupon or with
Petco Store Coupon 20% off Purina dog treats through 12/31/13  if you are headed to Petco this weekend!
The human added some suggestions for Petco to the Petco scenarios and posted matchups for this coupon for Petsmart seperately!
Yay!!