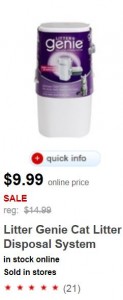 Target currently has the Litter Genie on price cut for 9.99 instead of the regular 14.99 price. And we have some some great coupons to stack, so we can score this for only 1.99:
Buy 1 Litter Genie Disposable System – $9.99
Use $5 off Litter Genie Litter Genie Disposable System Printable Coupon (you first have to register and then have to share the coupon)
AND stack with $3 off Litter Genie Target Store Coupon
= $1.99!
Our human bought this last year when we had a gift card deal at Target. She was skeptical at first, thinking, it's only a fancy trash can, designed to make humans buy expensive refills that only work with this particular system.
But after using the product for a while, she definitely confirms it does a good job as far as odor control is concerned!