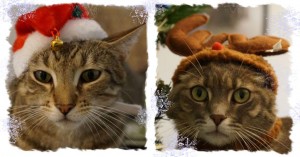 Happy Howlidays and Meowlidays to all our kittie and doggie friends, as well as their humans!!! Purrs and Meows to all!!
As our female human is out of town and left us behind with male human (despite numerous protest activities, as well as guilt inducing looks), she did not get around to write up some holiday safety tips for our friends out there. Instead she is watching our buddy Snoopy rearrange our grandhumans' holiday decorations 😉
The only good thing about this, as that we get to recycle our last years' Meowliday pictures and won't be bothered with silly outfits this time around. As you can see in the pictures we are not particular enthusiatic, when we have to dress up.
Luckily we can always count on the Meowness kitties to help us out. Especially our buddy Olivia, who lets us borrow her post on Tips for a MEOWY Howliday!
Olivia is a cat, so she refers to cats mainly, but many of these important tips also will help you keep dogs safe, so please read on!!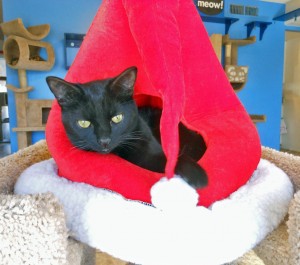 Ho, Ho, Ho, everyone! I know you are all busy preparing for the holiday festivities! If you have a minute, here are some tips for a kitty-safe, MEOWY Christmas!
Love and Peace, Olivia
1. Take it from a rambunctious kitten- securely anchor the tree…or else…catastrophe!
2. From the standpoint of a feline, tinsel is sure fun, but please avoid it. If ingested, it can wrap around your cat's intestines and cause a blockage.
3. It is best to not put chemicals or aspirin in the tree water; both are poisonous to cats.
4. They are so incredibly pretty, but electrical tree lights can be hazardous if your cat likes to bite wires. It would be a good idea to secure the cords out of reach of your kitty.
5. For cats that like to sample anything new, artificial snow should be avoided, as it is poisonous to cats.
6. It is a good idea to pick up loose pine needles. Believe it or not, they can puncture your cat's intestines or eyes.
7. When considering candles, make sure they are monitored and out of reach of your kitty (I have no idea what "out of reach" means, but apparently non-cat zones exist out there!)
8. Sorry to put a damper on the holiday plants but they can be toxic. Avoid mistletoe, holly and poinsettia. Click here for a list of poisonous plants for cats.
9. I have been told that certain holiday foods can be dangerous, such as chocolate (apparently some kitties out there will sample anything!) Also, turkey bones can splinter in lodge in your kitty's throat or intestines.
10. Be careful of fragile or glass ornaments, as well as ornaments with pieces that can be eaten by your cat. (That doesn't leave much in the way of ornaments, does it?)
Picture and text credit Meowness, thank you Olivia!