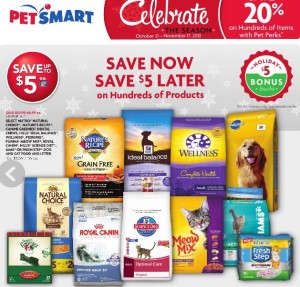 The holiday bonus bucks promotion is back at Petsmart!!
We have had this promo on numerious occasions over the past few years and usually could score some really good deals!
When you buy select items a register tape coupon will print for $5 off for your next purchase of participating items starting now through November 17th!
These register tape coupons usually can be stacked with manufacturer coupons and also roll, which means you will earn a new coupon, even if you use one to pay.
We are excited about this promo!!!
Unfortunately it looks like Tidy Cats is not participating this year and the promo will stop BEFORE black Friday.
In the past a lot of the items were super deals on BF and you would get register tape coupons on top, it seems this year they'll stop it right before Thanksgiving.
In any case, we'll have the human check the store over the next few days to see if we can find any deals!!