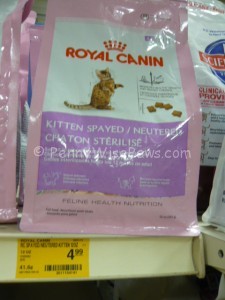 If you have recently purchased Royal Canin products or are planning to do so, you migh want to look into these rebates to possibly get some of your money back.
Also in case you have overlooked it in the Petsmart Matchups from last week, we have a 3/1 ANY bag Royal Canin Spayed/Neutered printable , which would make the above pictured bag 1.99 after coupon.
Here are the current Mail in Rebates we are aware of:
$20 Rebate wyb 3 bags of Royal Canin Hypoallergenic or Anallergenic through 9/30/2013
$30 Rebate wyb 4 bags of Royal Canin Urine SO though 9/30/2013
$15 Rebate wyb 1 bag of Royal Canin Calm formulas through December 15th, 2013
These are very expensive specialty formulas so don't expect any killer deals on them or anything. But if your pet has to be on one of those for some reason, at least this is a way to recoup part of the cost.