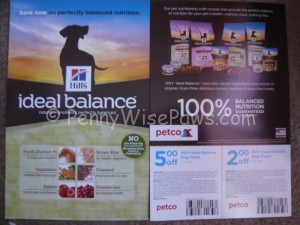 We had the human check for new prices at Petco, but she did not find to much tagged yet, we'll send her again later in the week.
She however did find the pictured flyers with coupons for Hill's Ideal Balance dog food 5/1 and 2/1 Hill's Ideal Balance dog treats.
Unfortunately they already expire 9/30
The way they are coded they may be store coupons. It does not say "Manufacturer Coupon" anywhere on them either!
We'll have the human check that out, just in case.