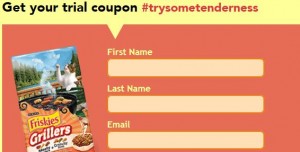 In case you have not requested this yet, Friskies is still offering a coupon to try their Friskies Grillers dry food. You can go here to request yours!
We received ours a few days ago, as we signed up for ours last month.  Friskies is never clear, what your going to get. We ended up receiving a 2/1 Friskies grillers coupon,
which will make the small bags of Grillers reasonably cheap.
Not our favorite product, to be honest, but we'll take a deal on anything we can donate to the shelter!