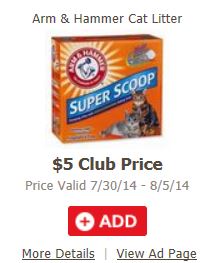 Oh my cat, how did we miss this???
Safeway has the A&H litter on sale for $5 the ENTIRE week, through 8/5!!
It's normally only on the Friday deals, so we did not catch it in the ad. We are so conditioned to checking the Friday deals for litter, that we totally overlooked this!!
We HAVE to retrain that human!!
Details in the ad say 9-20 lbs! Our store carries the Clump and Seal variety (the black boxes) so you can pick that one up for only $2 after coupon with this printable coupon:
3/1 A&H Clump and Seal cat litter
The same link also has a 1.50/1 A&H litter that can be used on the regular orange boxes, if you prefer those!
In case you already used your prints on the last Friday deal, or the Target deal, we also do have insert coupons:
1/1 Arm & Hammer Clump & Seal Cat Litter, Any 14 lb. – 06-01-14 SS
Not quite as good, as a $3 off, but still a great deal on litter if you need some, especially when combined with a $/$$ J4U if you received one in your account!
We'll definitely have our human get a few boxes for our furriends at Meowness, as we just dropped off some boxes a couple of days ago and they can never have too much litter!