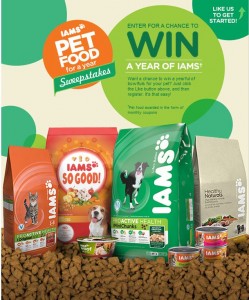 We have posted this many times over the last few months, but today. 10/31,  is definitely the last day to enter this sweepstakes. The last drawing will be 11/3/14.
So if you have not done this yet, head over here to like IAMS on facebook and register for a chance to win a one year supply of Iams pet food.
If you are not on facebook, you can also enter via their website.
Pet food awarded in the form of coupons worth $480 (dogs) or $360 (cats). For Official Rules, prize descriptions, and odds disclosure, visit https://iams.promo.eprize.com/lifelongrewards/