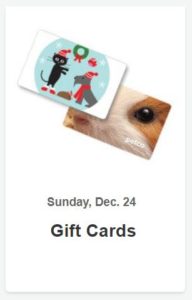 Petco currently has a new deal going every day through 12/24. Details can be found here.
We haven't posted much about it, because in the past their Bonus Rewards Dollars deals most times would not work.
But the last deals we tried (Solid Gold and Whole Hearted Pet food, both earlier this month), did give us the promised Reward Dollars, without having to interact with customer service.
For this reason, we wanted to point out that on the last day of the 24 days of deals, on 12/24 they are offering $10 in reward dollars (those usually post to your Pals Account the day after you purchased an eligible item) for $40 or more worth of gift cards.
That in itself is a 25% discount on a gift card IF you shop there often enough to use the reward dollars.
We usually use them towards one of their calendars (post on 2018 calendar to come soon) or other items on the wish list of the rescues we support.
The reward dollars WILL NOT come off your gift card purchase, but will be deposited in your account the next day.
They now also AUTOMATICALLY come off on your next purchase, so you must plan accordingly.
Now, if you have not used the $5 statement credit American Express deal, that we mentioned last month, you may be able to double dip on this deal!
You'll have to make sure you add your offer to your American Express card before you head to Petco.
If you manage to get in on both deals, you'll buy a $40 Giftcard at Petco, pay $40 on your American Express card on 12/24 ONLY!!
Then you'll see $10 worth of rewards in your Petco account on the next day and a $5 credit on your American Express statement, once the statement closes.
That would make it a total of $15 back on a $40 gift card purchase!! Pretty sweet in our book!!
If you don't have an American Express Card, we highly recommend the American Express Blue Cash preferred card, which gives you 6% cash back on groceries, as well as 3% cash back on gas, among many other things.
If you'll use the above link to sign up for this card, we may receive a commission, which we can then use to help more rescue pets. So thank you if you do!
Happy Shopping!!