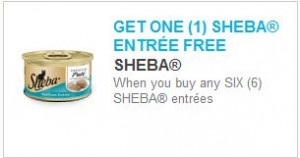 We have a new Sheba printable coupon B6G1!
We realise it's not the best coupon of all times. Sheba seems to want to wean us off after spoiling us with FREE coupons last year, then B1G1, then B3G1 and now B6G1.
Luckily the insert coupons are still good through november B3G1 Sheba Premium For Cats, Any Cans – 10-13-13 RP – valid up to $0.65 and the B1G1 peelies can also be used through 12/31.
But if you have none of those, these B6G1 prints are better than nothing!
There have also been reports of a Catalina offer out east for $1 OYNO wyb 5 cans.
We have not had a chance to send the human to the store yet to try, but we hopefully will be able to check later this week!
In case your humans make it to the store before ours does, please let us know if you receive the catalina!