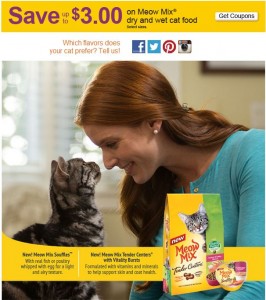 If you are subscribed to Meow Mix, do check your mail, we had an email with $3 in savings!
1.50/6 Meow mix tubs
1.50/1 Meow mix dry food
These are a bit better in value than the ones we usually receive in the inserts.
We cannot share our coupon links, because they were personalised, but you can sign up here to receive Meow Mix offers!
The tubs can be had for 48 cents at Targe and WM (a wee bit more in most other stores), so 1.38 after coupon or 23 cents each wyb 6.
Dry food often goes on Sale for 3.99 at Petsmart so you could snag it for 2.49 a bag
These coupons expire 6/24, so you have a little while to find a good deal!