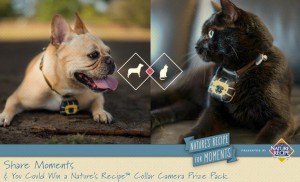 If you have not entered yet and are a Facebook, Twitter or Instagram user, here's a way to win a collar camera prize pack!
Share Your Pet Photos & You Could Win a Collar Camera!
Nature's recipe is giving away Collar Cameras to the pet parents who share their favorite moments.
Come back each week through March 2nd 2014 and upload a cherished photo of your pet, or post to Twitter or Instagram using #RecipeForMoments to learn how you can enter.
More info can also be to be found on their Facebook page!
Official Rules and Regulations!