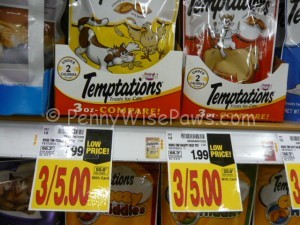 We will NOT be doing regular Matchups for Frys or any of the grocery stores, as there are several wonderful blogs out there, that do a pawesome  job at this!
A million times better than our human ever could. Our favourite being The Cent'sable Shoppin, that's no secret!
Let's face it, our human spends more time in pet stores than in any other type store.
Rightfully so! We think people food is totally overrated!! All these fruits and veggies she brings home, eeeek!
Even male human calls it "fridge decoration"! Who wants to eat that??? Unless it's chicken lunchmeat of course!!
We do believe going to human food stores has one justification and ONE JUSTIFICATION ONLY other than buying pet food: chicken lunchmeat!!!
We'll take chicken lunchmeat over any other treat out there!! Paws down!!
That said, here are some more Frys deals. We already posted the best ones, like Milk Bone Trail Mix,  yesterday, but as the human
took some more of her blurry pics we might as well post a few more.
Generally speaking we will do cherry picking the best deal for the grocery stores and will be focussing on the pet stores for our matchups!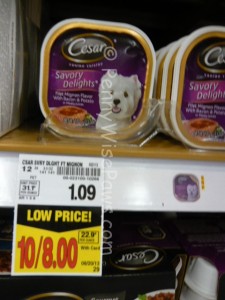 Cesar Dog Food Trays 10 for $8 or .80 cents each
we have B1G1 Cesar Canine Cuisine Tray 7-14-13 RP or
B3G1 on coupons.com
=.80 for 2 or .40 each after B1G1 coupon, much better deals can be had elsewhere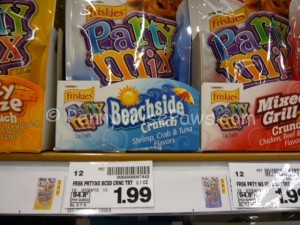 Friskies treat 1.99 each
0.50/2 Purina Friskies Or Whisker Lickin's Cat Treats, Any – 07-28-13 RP
1.49 each after Q wyb 2, we have had much better deals on those before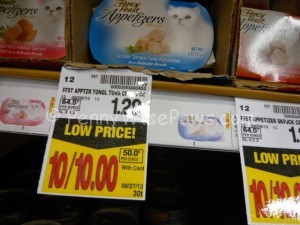 Fancy Feast Appetizers 10 for 10 (you can buy less and still pay $1)
use 1/4 printable here = $0.75 each after coupon wyb 4, which is an ok deal for these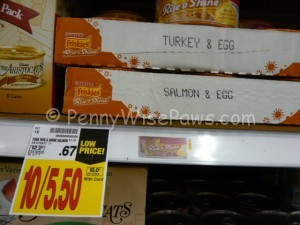 Friskies Rise and Shine 10 for 5.50 or 55 cents each
0.50/6 Purina Friskies Rise & Shine Wet Cat Food, Any Cans – 07-28-13 RP
Will go to $1, so 2.30 for 6 wyb or 38 cents each wby 6
or 1/6 Purina Friskies Rise & Shine Wet Cat Food, Any Cans – 07-28-13 RP
if you prefer the other varieties we have
$1 off Purina Friskies Wet Cat Food, any (24) single cans, (2) 12 ct or (1) 24 ct variety pack – 07-28-13 RP
but that really won't make for any good deal at all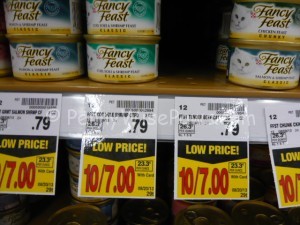 Fancy Feast 10 for $7 or 70 cents each, inlcudes the FF with Cheddar
$1/6 Purina Fancy Feast Delights w/Cheddar, 3 oz cans 08/04/2013 SS Insert (exp 11/04/2013)
so 3.20 for 6 (only Cheddar variety) or 53 cents each, honestly not too good a deal, BUT if you are at Frys anyways
you might just want to keep it simple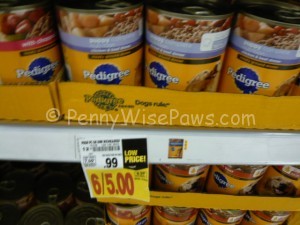 Pedigree 13.2 oz cans 6 for $5 or for 83 cents each use printable 1/2 Pedigree coupon 
to get them for 33 cents wyb 2, better bang for your buck than the pouches, especially if you only have a few prints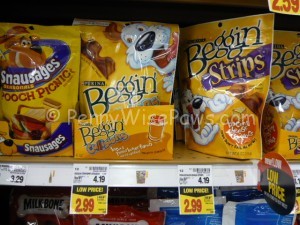 Purina Beggin Strips 2.99 each
$1/2 Purina Beggin 06/30/2013 RP Insert (exp 09/30/2013)
or $3/3 Purina Dog Snacks 07/28/2013 RP Insert (exp 10/28/2013)
1.99 after Q wyb 3, which is an ok deal if you need them now, they often can be had lower
some of us have BOGO beggin strips MQs from the Petsmart adoption booklet, so you might do better!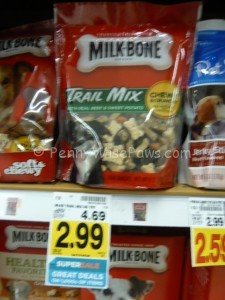 Milkbone Trail Mix on Sale for 2.99!
use 1/1 Milkbone printable Q and some of us even have 1.50/1 Tearpads.
We also have a Milkbone Catalina offer 8/12-9/8/2013 (gotta love cats

)
Buy 2 get 1$
Buy 3 get 2$
Buy 4 or more get 3$
Buy 4 boxes ad 2.99 each = 11.96
Use 4x  1/1 Milkbone printable Q (need 2 computers to print from)
= Pay 7.96 earn $3 catalina
So net after Qs and cat = 4.96 or 1.24 a box
or as low as 74 cents/bag if you have the tearpad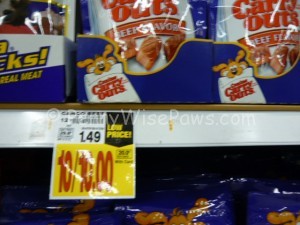 Canine carry outs 10 for 10 or 1$ each (you can buy less than 10)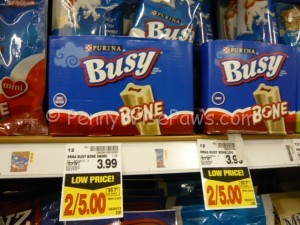 Busy Bone 2 for $5 or 2.50 each
use $3/3 Purina Dog Snacks 07/28/2013 RP Insert (exp 10/28/2013)
1.50 each after Qs wyb 3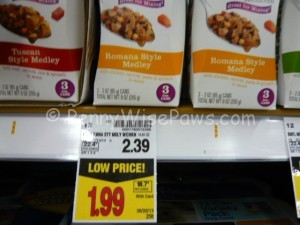 Beneful Medleys 1.99
B3G1 Beneful MEDLEY Wet Adult Dog Food MULTIPACKS by Purina buy THREE and get ONE FREE, to $2.49 7/28 SS
5.97 wyb 4 or 1.49 each (not a particularly good deal), some of us have B2G1 Qs from a free sample we signed up for
a few weeks back so you'd get 3 for 3.98 or 1.33 each, we'd wait for a $ off Q to stack honestly, or get them at Target, where we have a better deal!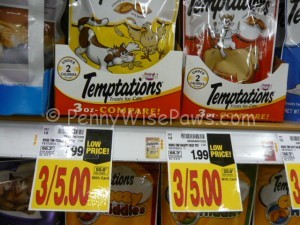 Temptations cat treats 3 for $5 or 1.67 each
1/2 Temptation treats printable or
0.50/2 Temptation treats printable
so 1.17 eac wyb 2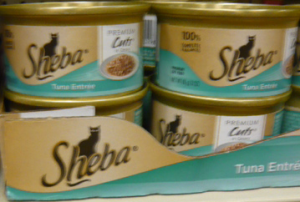 Sheba cans were 10 for $6, so 60 cents each
some of us have BOGO peelies making them 30 cents a can wyb 2, we also have coming up this weekend
a B2G1 in 8/18 RP, making them 40 cents/can wyb 3
not too bad, but we have had better deals on those!