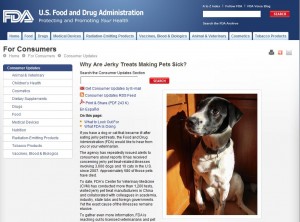 Jerky pet treats, especially those made in China, have gotten a lot of press recently and not in a good way.
We have seen several recalls over the past few months (Milo, Canyon Creek Ranch, Waggin Train, just to name a few).
The FDA has been inundated with reports of dog and cat guardians whose pets got sick or even died after eating these treats.
Earlier this week the FDA released a progress report on the pet jerky treat investigation.
The report and further information, including, what to do if your pet got sick from eating these treats can be found here.
You can also subscribe to their RSS newsfeed or sign up for email alerts to receive updates in a timely manner.