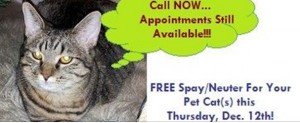 We have shared this on our facebook page a couple of times. This event is going on TOMORROW!!
So if you have booked your spot, don't forget to show up!
There are also a couple of first come first served locations, but they book up pretty fast, so we suggest to head out there super early!!
FIRST COME-FIRST SERVED OR AHS (AZ Humane Society) Locations:
Space is limited and check-in begins at 6:00 a.m., Arrive Early. www.azhumane.org for pre-surgery info
· South Mnt: AHS Clinic- 1521 W Dobbins Road, PHX 85041
· Sunnyslope Area: AHS Clinic- 1311 W Hatcher Rd, PHX, 85021
More information on other locations and phone numbers on their facebook page here!
Spaying and neutering helps save lives!! Please spay and neuter your pets!!!